From the desk of Deb and Charlene 
 With the shorter days and longer nights, we tend to hibernate more into the comfort of home.  The trees have almost lost all of their colourful leaves and raking becomes the weekend pastime for some.  This month also brings to light of Remembrance Day.  A day to reflect and  remember the brave men, women and animals that fought for our freedoms today!  
SELLING YOUR HOME
Helpful Advice: Get the basic knowledge you need before selling your home, plus useful advice to guide you throughout the process. Find it all here.
Home listings on the Internet: Find out at what price comparable houses in your area are listed. Visit REALTOR.ca to view the latest home listings on whatever computer or device you're using.
Home listings app for your phone: Add our REALTOR.ca app to your phone to give you convenient access to all the latest home listings.
Find a REALTOR®: Benefit from the expertise of a professional with an intimate knowledge of your local housing market.

 

Contact Deb Dorman or Charlene Bertin 
BUYING A HOME?
Helpful Advice: Get the basic knowledge you need before buying a home, plus useful advice to guide you throughout the process. Find it all here.
Home listings on the Internet: Visit REALTOR.ca to view the latest home listings on whatever computer or device you're using.
Home listings app for your phone: Add our REALTOR.ca app to your phone to give you convenient access to all the latest home listings.
Find a REALTOR®: Benefit from the expertise of a professional who can find you the perfect home

.

 

Contact Deb Dorman @ 519-859-4874 or Charlene Bertin @ 519-857-5439
Home sales soar to new heights in October
November 4, 2019LSTAR's residential sales activity hit a new record in October, with 928 homes1 exchanging hands in the Association's jurisdiction. This brings the total number of 2019 LSTAR home sales to 8,909, 3.4% higher than the October 2018 year-to-date figures."Once again, home sales soared to new heights, making last month the best October since 1978, when the Association began tracking sales," said Earl Taylor, 2019 LSTAR President. "In addition, the year-to-date data suggests this year's home sales are poised to surpass last year's."The number of active listings saw a slight year-over-year uptick in October – from 1,596 in 2018 to 1,716 in 2019, but stayed well below the 10-year average. The sales to new listings ratio for the entire Association's jurisdiction sat at 79.5% last month, 2.4% higher than in October 2018. "This speaks to the brisk pace of the local real estate market, which clearly favours Sellers," Taylor added.Overall, the average home price was $412,883. This represents an 8.7% increase over October 2018, but is slightly lower than the August average home price of $413,000.AreaOctober Average Sale PriceElgin County$394,119London$416,592Middlesex County$482,569St. Thomas$349,895Strathroy$438,019LSTAR$412,883Looking at London's three main geographic areas, the average home price in London East was $340,530, up 8.9% from last October. In London South (which includes data from the west side of the city), the average home sales price was $425,631, up 7.4% compared to the previous year, while London North saw an increase of 2.2% over last October, with an average home sales price of $486,584.The following chart is based on data taken from the Canadian Real Estate Association (CREA) 
National Price Map
 for September 2019 (the latest CREA statistics available). It provides a snapshot of how home prices in London and St. Thomas compare to some other major Ontario and Canadian centres.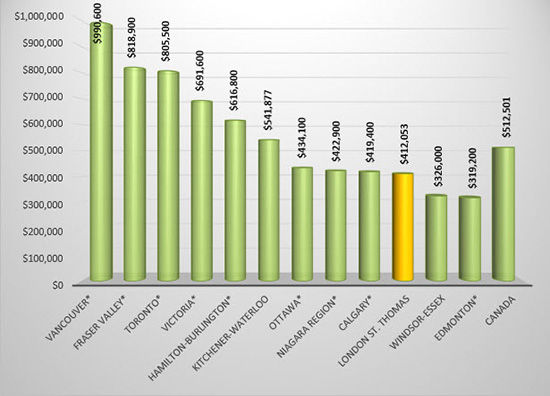 According to a research report2, a total of $67,425 in ancillary expenditures is generated by the average housing transaction in Ontario over a period of three years from the date of purchase. "This means that LSTAR's October home resales would translate into more than $62 million back into the local economy for the period 2018 - 2021," Taylor concluded.
To-Dos: Your November Home ChecklistGet a jump on preparing your house for the holidays so you can relax and enjoy the season's simple pleasures

Laura Gaskill
Embed
With  the winter holidays just around the corner, there's a lot to look forward to (and prepare for) at this time of year. Batten down the hatches for winter weather and get a jump on holiday hosting prep, so you can relax and savor the many simple pleasures of the season, like big family dinners and walks in the crisp air outdoors.
Things to Check Off Your List in an Hour or Less
1. Replace floor protectors on chairs. Don't let dining chairs do damage to your hardwood floors: Check their feet and add or replace floor-protecting pads if needed. Felt pads come in self-adhesive and nail-in varieties; if you're using the self-adhesive type, be sure to clean the base of each chair foot thoroughly and allow it to dry before applying.
2. Examine the sump pump. If you have a sump pump in your basement as protection in case of flooding, make sure it is working properly before the rainy season really gets going, and then repair or replace it if needed.
3. Check paths, stairs and railings for safety. Slips and falls on ice and snow can happen anywhere, but they're even more likely if the footing is uneven or a railing isn't sturdy. Take a walk around your home's exterior, paying special attention to walkways, stairs and railings, and make repairs as needed.
4. Show some kindness to feathered friends. Nonmigrating birds can use extra help when wild food becomes scarce and water sources freeze. Stock up now on birdseed so you can keep those feeders full, and consider providing a water source as well — refresh it daily to prevent mosquitoes.
Tackle These Tasks Over a Weekend
5. Get a jump on holiday prep. If you plan to host this holiday season, take a bit of time now to prepare a few things in advance. Launder and iron the fancy linens (roll up freshly ironed linens on old wrapping paper tubes to prevent wrinkles), drop off the kitchen knives for a professional sharpening or polish some silver — you'll thank yourself later.
6. Deep-clean bathrooms. Aim to schedule a deep cleaning of the bathrooms a week before entertaining so a quick surface wipe-down will be all you'll need to get things looking spotless again on the big day. If you're hosting Thanksgiving, goodness knows there are plenty of other things to worry about — like how you're going to fit a turkey and five side dishes in the oven!
7. Check bathtub caulk and repair if needed. While cleaning the bathroom, notice the condition of the caulk around the tub. Cracked or worn out caulk can allow water to seep into your home's framing. If you spot a problem area, get it replaced as soon as possible.
8. Inspect the home's exterior, and then cover gaps. Cover any gaps you find around the exterior of your home that may be large enough for a mouse to enter — it doesn't take much space for these little critters to sneak in. Cover exterior vents with hardware cloth, and attach door sweeps to the bottoms of exterior doors to stop furry creatures from squeezing in when the weather turns chilly.
9. Remove the last of the fall leaves. Aim to fit in one final raking and gutter-cleaning session once the last leaves have fallen — but before the first snow.
Maintenance and Extras to Budget For This Month
10. Fix plumbing issues before the holiday crunch. Have a slow drain, stuck garbage disposal or finicky toilet? Don't wait until the busy holiday season, when a full house will put more pressure on your drains and when it may be harder to find a plumber who's available. Fix it now.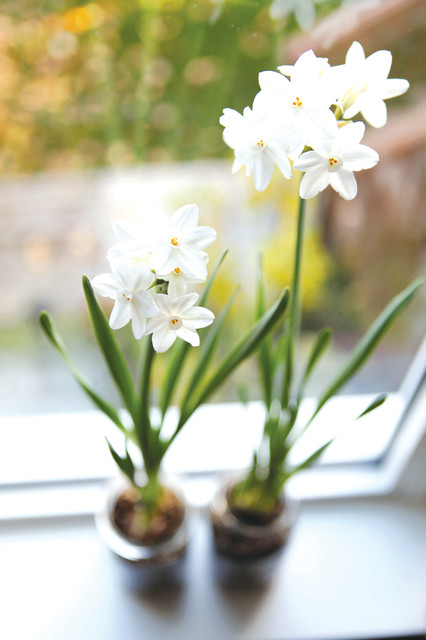 Photo by Stephanie Rose
11. Force bulbs indoors. Potted bulbs make a lovely, thoughtful gift, and if you're potting them for yourself, it's easy enough to make a bunch to give away throughout the holiday season.
12. Stock up for winter. If you live in a region with cold, snowy winters, taking the time now to stock up on winter gear and supplies will mean less stress when that first big storm hits.
Check snow shovels and ice scrapers; replace as needed.
If you use a fireplace or wood stove, order firewood.
Pick up a bag of pet- and plant-safe ice melt.
Restock emergency kits for car and home.
If you use a snow blower, have it serviced and purchase fuel.
If your home has an emergency power generator, review safety standards (the American Red Cross has helpful tips) and check that it's working properly.
by Brenda Neville-Hall, agent
Allstate Insurance Company of Canada
1061 Wonderland Rd. S., 
London, ON   N6K 3X4
bnevillehall@allstate.ca
519-471-1900 ext 5012 or 1-866-471-1900 ext 5012
March 5, 2018
Don't Stress About the Mess:  Tips on Safely Removing Junk
 
Fall is a great time of the year to take stock of junk that is sitting around the house, condo or apartment. Junk can cause a lot of stress and getting rid of it can help ease your mind.But there is more to de-cluttering the home and junk removal than just hauling what you want to get rid of down to the curb. Safety is a big factor.According to Mike Thorne, Founder and CEO of JUST JUNK, first you need to divide and conquer. In each room, make piles according to these categories:
Keep it in the room
Put it away in another room
Donate it
Recycle it
Trash
Sell it
Things start to get tricky when talking about throwing out electronic items like computers and TVs. Most municipalities have recycling centres for those.What about hazardous items that could be corrosive, flammable, explosive or poisonous – such as paint cans, glue, motor oil, household cleaners? That's when you really have to be careful. Most – if not all – communities have drop off depots where residents can take hazardous materials.Call your city or municipality's waste hotline or recycling department to locate the drop-off area. Before you toss it out, store anything hazardous in a cool, dry place.DIY junk removalHere are some safety tips to keep in mind if you are going to de-clutter:
Teamwork and preparation. Cutting corners, especially when removing large items, isn't worth the risk of damaging your property or injuring yourself. Get as many people involved as you can to help you out and plan the job properly and safely!
Doors. When removing larger items, it may be a good idea to take doors off their hinges. You'll have more mobility, which is better for safety – plus it will protect the framing of your home.
Dollies and straps. Save both your time and your back – especially for big items such as washers, dishwashers and stoves – and use dollies and straps for moving items.
Manageable sizes. If you can, take apart that large couch, desk, piano or shelving unit to make moving it easier.
Safety gear. Wear work gloves to avoid injury from broken glass, splinters, or nails. Use safety glasses if you are using tools to demolish a larger object like a shed or hot tub. Wear work boots at all times for good grip and to protect your feet from heavy or hazardous objects.
Wheelbarrows. For outdoor work, use a wheelbarrow when removing concrete and stone, so you don't hurt your back.
Appliances on the curb. Make sure to remove any doors from appliances like washers, dryers and refrigerators if they are being left at the curb. These might seem like great opportunities for exploration for little ones but they can pose serious safety risks.
What to look for in a junk removal companyThorne knows a thing or two about the junk disposal business. JUST JUNK launched in 2003 and now services every major Canadian city. If you are going to hire a company to help you remove junk from your home, here are some tips:
Make sure they are licensed and insured. You want to protect yourself in case of damage to property or injury to people.
Make sure they can remove any junk, from anywhere on the property.
Make sure they offer same and next day bookings.
Make sure they can handle recycling and donating any items that are in good condition.
Make sure they give a free estimate in writing, so pricing is up front.
Getting rid of junk is a good idea – you and your home will be safer, and you will have greater piece of mind.

Contact:
Deb Dorman 519-859-4874
Charlene Bertin 519-857-5439
Sales Representatives
StreetCity Realty Inc., Brokerage
Our email address is:
info@yourrealestatemarketplace.com
Website:
www.yourrealestatemarketplace.com
Want to change how you receive these emails?
You can 
update your preferences
 or 
unsubscribe from this list
.
IMPORTANT NOTICE: This message is intended only for the use of the individual or entity to which it is addressed. The message may contain information that is privileged and confidential and exempt from disclosure under applicable law. If the reader of this message is not the intended recipient, or the employee or agent responsible for delivering the message to the intended recipient, please do not copy, distribute or use this communication for any purpose. If you have received this e-mail message in error, please delete the original message and any copies of it from your computer system and notify the sender by reply e-mail. Thank you.