Blog post content goes her                         
From the desk of Deb and Charlene 
As 2019 comes to a close, we hope that you have had a great year and we want to wish all of our friends, clients and family a safe, fun and wonderful Merry Christmas and Happy New Year!  
SELLING YOUR HOME
Helpful Advice: Get the basic knowledge you need before selling your home, plus useful advice to guide you throughout the process. Find it all here.
Home listings on the Internet: Find out at what price comparable houses in your area are listed. Visit REALTOR.ca to view the latest home listings on whatever computer or device you're using.
Home listings app for your phone: Add our REALTOR.ca app to your phone to give you convenient access to all the latest home listings.
Find a REALTOR®: Benefit from the expertise of a professional with an intimate knowledge of your local housing market.

 

Contact Deb Dorman or Charlene Bertin 
BUYING A HOME?
Helpful Advice: Get the basic knowledge you need before buying a home, plus useful advice to guide you throughout the process. Find it all here.
Home listings on the Internet: Visit REALTOR.ca to view the latest home listings on whatever computer or device you're using.
Home listings app for your phone: Add our REALTOR.ca app to your phone to give you convenient access to all the latest home listings.
Find a REALTOR®: Benefit from the expertise of a professional who can find you the perfect home

. 

Contact Deb Dorman or Charlene Bertin
another record month for home sales
December 4, 2019For the second month in a row, LSTAR's home resales achieved a new record, with 752 homes1 exchanging hands in November. It's the best November ever, since the Association began tracking data in 1978."We had another solid month, demonstrating the robust marketplace all across the region," said Earl Taylor, 2019 LSTAR President. "There have been 9,658 home resales year to date, which is up 3.2% compared to the same period in 2018, and we're on course to surpass last year's total sales."The sales-to-new listings ratio in LSTAR's jurisdiction was 90.7%, which the Canadian Real Estate Association (CREA) says favours sellers. A ratio between 40% and 60% is generally consistent with a balanced market. A ratio below 40% tends to favour buyers, while a ratio higher than 60% indicates marketplace conditions favouring sellers, according to CREA."Several regions saw sales-to-new listings ratios above 100%, including London East (105.6%) and Strathroy (107.1%)," Taylor said. "We're still experiencing low inventory levels, which also continues to impact the average home sales price in all regions."Overall, the average home price was $416,116, up 10.6% compared to November 2018.AreaNovember Average Sale PriceElgin County$417,206London$426,887Middlesex County$514,016St. Thomas$327,731Strathroy$400,727LSTAR$416,116Looking at London's three main geographic areas, the average home price in London East was $357,796, up 18.6% from last November. In London South (which includes data from the west side of the city), the average home sales price was $424,900, up 12.2% compared to the previous year, while London North saw an increase of 1.9% over last November, with an average home sales price of $493,896.The following chart is based on data taken from the CREA National Price Map for October 2019 (the latest CREA statistics available). It provides a snapshot of how home prices in London and St. Thomas compare to some other major Ontario and Canadian centres.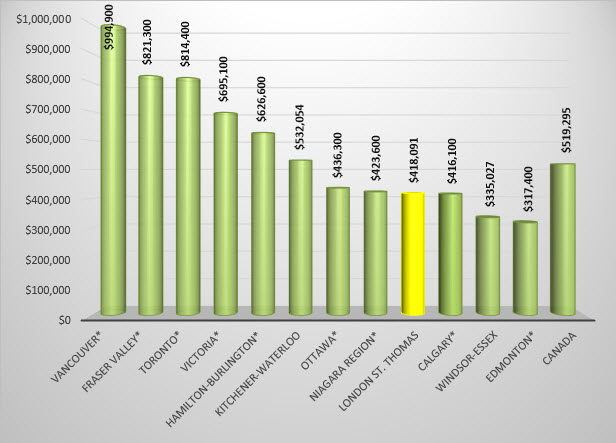 According to a research report2, a total of $67,425 in ancillary expenditures is generated by the average housing transaction in Ontario over a period of three years from the date of purchase. "Looking at the November home resales, that means potentially generating more than $50 million right back into the local economy," Taylor said. "The business of residential real estate impacts all facets of our community, from professional services, such as legal and appraisal entities, to retail, as well as local contractors and tradespeople."The London and St. Thomas Association of REALTORS® (LSTAR) exists to provide its REALTOR® Members with the support and tools they need to succeed in their profession. LSTAR is one of Canada's 15 largest real estate associations, representing over 1,900 REALTORS® working in Middlesex and Elgin Counties, a trading area of 500,000 residents. LSTAR adheres to a Quality of Life philosophy, supporting growth that fosters economic vitality, provides housing opportunities, respects the environment and builds good communities and safe neighbourhoods and is a proud participant in the REALTORS Care Foundation's Every REALTOR™ Campaign.*Areas displaying MLS® Home Price Index benchmark prices; all other areas display average prices
---
1These statistics are prepared for LSTAR by the Canadian Real Estate Association (CREA) and represent a data snapshot taken on December 1, 2019, based on processed home sales activity between November 1 and 30, 2019.2Economic Impacts of MLS® Systems Home Sales and Purchases in Canada and the Provinces, Altus Group Economic Consulting, 2017.
December Checklist for a Smooth-Running Home
It's time to add weather stripping, plan for holiday home safety, consider backup heating, check your emergency kits and more
With winter officially beginning on December 21 and holiday festivities around the corner, there is a lot to prepare this month! For those in cold climates, it's time to begin thinking about snow and ice removal, blocking drafts and getting cozy indoors … and we can all use a good dose of Zen as the busy holiday season gets rolling. Here are 13 home tasks to consider adding to your list this month.
1. Put up holiday decorations. If you like to decorate for the holidays, now is the time! Dig out the Christmas lights and test them early in the month, so you have ample time to replace nonworking strands. Hang exterior lights, wreaths and swags, being sure to use only exterior-rated lights, and plug them in safely to an outside outlet if possible.
2. Plan for holiday home safety. With night falling earlier this month, and many people headed out of town, it pays to be extra safety-conscious — whether or not you are going anywhere. Always lock doors and windows, set your alarm system if you use one and keep the area around your house well-lit and your bushes trimmed back.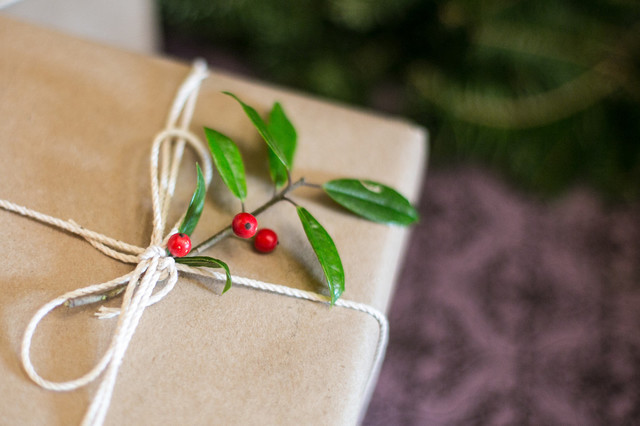 3. Simplify your holiday. Take a moment to sit down and really consider what you love — and don't care for — about the holiday season. No one can do it all, and trying to accomplish too much only creates stress and disappointment. Pick your top three favorite holiday activities or traditions, and commit to doing them this month. Then list your three least favorite holiday activities and vow to skip them this year. 
If you are feeling pressure from friends or relatives to keep doing certain things (i.e., baking a dozen different kinds of cookies), tell them that you are simplifying your holiday this year, and are focusing on the things you love most. Then invite them to share in something you do want to do, like going ice skating or drinking hot cocoa.
4. Add layers of warmth. Drape soft throws or thick sheepskins over chairs and sofas, and roll out plush rugs on your floors. Aside from being decorative, extra layers of textiles provide a wonderful boost of warmth in winter.
5. Add weather stripping and door sweeps as needed. Feel a draft? Don't ignore it. Apply weatherstripping to the drafty area and your house will feel warmer right away. If the problem is cold air flowing in from under a door, what you need is a door sweep. Usually made from hard plastic, a door sweep attaches to the bottom of your door, closing the gap that lets cold air in.
6. Carve out your own space to get Zen. Boost energy and relieve stress during the holiday season by creating your own private space to meditate, do yoga or simply relax. Ideally, choose a sunny corner of your home where you can get a bit of morning sun.
7. Consider a backup heat source. If you live in a cold climate with regular winter storms that sometimes knock out power, it may be beneficial to invest in a woodstove or generator — something to provide backup heat if your regular heat source is unavailable. If a woodstove is your backup, be sure to stock up on plenty of firewood. If you decide to go with a generator, enlist a pro to teach you how to set it up and use it safely — when used improperly, a generator can start a fire.
8. Update your emergency kit and store it with your camping supplies. If you already have 
a household emergency kit
, check the expiration dates on food and medications in it, and replace as needed. If you do not yet have one, get one! You may find many of your camping supplies helpful in an emergency, so consider storing your emergency kit and camping gear in the same (easily accessible) place.
9. Beware of sneaky mice and rats (ugh!). Not so nice to think about, but if you see signs (i.e., droppings) that little critters have invaded your home, it's best to take care of the problem as soon as possible. To prevent future problems, store all food in airtight containers, clean your pantry regularly and seal up any holes or cracks in your home that may lead outside.
10. Keep walkways clear of snow and ice. As we get further along in December, many folks living in cold climates will get their first snow. Be prepared by stocking up on snow shovels and ice melt, and store your tools where you can easily get to them during a storm. Just be aware that certain ice melting products can be harmful to pets and plants — read the labels carefully before buying, and try to keep products off of your lawn and garden beds.
11. Check your roof for ice dams. Ice dams are areas of built-up ice that can accumulate on your roof, potentially causing leaks when they melt. If you can safely reach them, break them up now to prevent future damage.
12. Knock snow from tree branches. Large amounts of snow can cause trees to lose branches, which can be especially dangerous if a large limb is positioned near your home. Use a long-handled broom or other tool to gently knock snow from branches.
13. Thinking about remodeling next year? Use downtime this month to begin 
creating ideabooks
 and 
scouting for pros
, and have an initial discussion about the job.
Simple Steps for Safe Winter Driving         
by Brenda Neville-Hall, agent
Allstate Insurance Company of Canada
1061 Wonderland Rd. S., 
London, ON   N6K 3X4
519-471-1900 ext 5012 or 1-866-471-1900 ext 5012
March 5, 2018
Winter can be "the most wonderful time of the year," but it also has its downsides. Among them are shorter days, frigid temperatures and of course – the driving conditions. Winter roads can make even the shortest of trips a white-knuckle adventure – and for good reason. According to the 
2018 Allstate Canada Safe Driving Study
, January and February see higher collision frequencies on Canadian roads compared to other months of the year.The best way to avoid road headaches is to not drive at all during bad weather. But, if you must drive, consider these preventative measures to help ensure everyone enjoys a safe winter season on our roads.Winter driving safety starts before you hit the roadMaintain your vehicle: At the start of the season, get a maintenance inspection and have your mechanic check the engine, brakes, oil, belts, hoses, battery fluid levels, battery posts and cable connectors. Bad connections can prevent your car from starting. Also be sure to check and replace your windshield wipers if they are worn.Keep an eye out: Throughout the season ensure your defroster and heater are working properly; keep your washer fluid topped up; and never let the indicator on your fuel gauge fall below the halfway point. If you wind up getting stranded on the road due to the weather, having at least a half tank of gas will be crucial.Invest in winter tires:  There's a reason why 
winter tires
 are mandatory in some regions of the country: they work.  Winter tires grip the road better in cold and snowy weather, which will help provide more control. Make sure your tires remain properly inflated throughout the season.  Tires lose a pound of pressure for every 5 degrees Celsius the temperature drops. When looking for winter tires, take some time to do your research before you buy.Plan ahead: Plan your trips and know your route so that you can check road conditions before you head out the door. Be sure to always leave extra time to allow you to prep your vehicle for departure, and account for increased travel times due to weather conditions.Keep things clear: It's really important that you clear all the snow and ice from your vehicle after a snowfall, and not just what's on the windows.  Snow on the roof of your car can slide down while you're driving and cover your windows or, it can fly off and hit another driver's windshield, obscuring their visibility. You also want to make sure your turn signals and headlights are clear. Drivers should also keep window cleaner and towels handy to keep windows , mirrors, and cameras clear of slush and debris.Pack an emergency kit: Be prepared for the unexpected. Put together a 
winter safety kit
 and keep it in your trunk. Be sure to include warm clothing, flashlight and extra batteries, booster cables, some non-perishable food, and water in a container that can withstand freezing temperatures. Don't forget to include a bag of traction material like sand.Be smart driving on winter roadsLeave Space: According to 
Allstate collision data
, rear-end collisions are the most common type of collision on Canadian roads. It's important to increase following distances in the winter. Leave at least eight to 10 seconds between your vehicle and the vehicle in front of you so that you have time to react.  You never know when you may need to brake quickly, and this is even more important on wet, icy or snowy roads and at night when visibility is worse.Use your mirrors and signals: Be diligent about checking your mirrors at regular intervals and use extra care when checking your blind spot when you change lanes. Also use your turn indicators to show other drivers your intentions.Take it slow:  It may be tempting to speed up when road conditions seem clear, but you can reduce your chances of being involved in a collision by simply slowing down. If you have to come to a sudden stop, or if you hit unexpected patch of black ice, driving at a slower speed will make hitting another car in front of you less likely.Stay focused:  Give the road your undivided attention whenever you're driving. Keep your eyes on the road, your hands on the wheel, and your phone and other 
distraction
s stowed away. You should also 
never, ever, drive while impaired
. Unfortunately, according to numbers provided by 
MADD Canada
, thousands of collisions are caused by impaired drivers every year.Use some courtesy and common sense:  You can never go wrong by showing some courtesy behind the wheel. Obey the rules of the road; be respectful of other drivers and pedestrians; turn on your lights to remain visible; don't pass snow plows; and keep in mind that bridges, ramps, and overpasses are likely to freeze first.So, get out and enjoy the winter, just know that some advance planning and preparation can make your travels a little less stressful.                                             

Contact:
Deb Dorman 519-859-4874
Charlene Bertin 519-857-5439
Sales Representatives
StreetCity Realty Inc., Brokerage
Our email address is:
info@yourrealestatemarketplace.com
Website:
www.yourrealestatemarketplace.com
Want to change how you receive these emails?
You can 
update your preferences
 or 
unsubscribe from this list
.
IMPORTANT NOTICE: This message is intended only for the use of the individual or entity to which it is addressed. The message may contain information that is privileged and confidential and exempt from disclosure under applicable law. If the reader of this message is not the intended recipient, or the employee or agent responsible for delivering the message to the intended recipient, please do not copy, distribute or use this communication for any purpose. If you have received this e-mail message in error, please delete the original message and any copies of it from your computer system and notify the sender by reply e-mail. Thank you.e