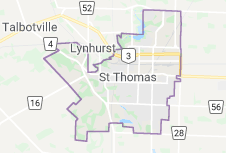 The urban centre of our area is St. Thomas (www.stthomas.ca). St. Thomas is well-connected.  The city is just south of London and Highway 401. Driving time between the London/St. Thomas city limits is only seven minutes or approximately 25 minutes between the centers of both cities. Five major Canada – U.S. border crossings are within easy reach. The Sarnia, ON / Port Huron, MI border gateway is only 110 km. (68 miles) away to the west. The Detroit/Windsor border point is southwest of our location,185 km. (114 miles) from us, and the Buffalo/Fort Erie border is 215 km. (133 miles) to our east.
In the last national census (2016), population within the city limits was 38,909. 2019 population is estimated at 43,276 and growing at an annual rate of 0.52%. The 5-year growth rate between the 20011 - 2016 national census was 2.6% Including the immediately adjacent suburban areas, the local population is approximately 56,000. The average age of persons living here is 40.7 years, nearly identical to the national average of 40.6 years.  St. Thomas is part of the London Census Metropolitan Area (CMA), the 11th largest market in Canada.  Total population in the CMA in the 2016 census was 494,069.
St. Thomas ranks 48th in size among over 440 municipalities in Ontario.
St. Thomas was exclusively an agricultural centre before the arrival of railroads and, later, manufacturing industries.  Being close to the north shore of Lake Erie and midway between Detroit and Buffalo, St. Thomas became a transportation hub connecting the Windsor – Niagara region of Canada via rail links to the northeastern United States. In the one hundred years between 1856 and 1957, St. Thomas saw over 25 million railway passengers come to, from and through the community, plus an equally huge quantity of freight.  In 1914, eight railways were here and more than 100 trains per day brought jobs and economic prosperity.  Today, our railway history is the focus of tourism in addition to service provided to local manufacturers.  Dieselization of the railways brought a decline in employment and activity that coincided with work to see the community become a centre for manufacturing.
St. Thomas remains focused on being a manufacturing leader. Marketing and promotion efforts by the municipal government, St. Thomas Economic Development Corporation, Elgin County Economic Development & Tourism,  and numerous community partners including the Chamber of Commerce showcase the quality and skills of the local workforce and the geographic advantages of St. Thomas' location for both access to materials and distribution of finished products.  Many of our major employers are well-known world leaders. Our community is enthusiastic, able, skilled and caring – and extremely talented when it comes to making anything a little bit better, faster and stronger.
AREA: St. Thomas City – 8,834 acres (35.75 sq. km.) Approximately 1,600 acres in the northeast section of the City is zoned and serviced to accommodate existing and future industries.  Elgin County covers 725 square miles (1,160 square kilometres).